China's CATL will go to Bolivia to mine lithium
The Chinese consortium CBC, led by CATL, will mine lithium in Bolivia for $ 1.4 billion: one is located in the city of Quebassa in western Bolivia, and the other is in the salty Uyuni desert in the southwestern part of the country. The production capacity will be around 200 tons per year. Two-thirds of CBC is owned by CATL, the world's largest battery manufacturer, which is building a factory in Debrecen, and the remaining part is shared by Guangdong Brunp Recycling Technology and CMOC – He writes bloomberg.
Production will be based on direct lithium extraction (DLE) technology: the liquid brought to the surface, rich in lithium salts, is passed through special membrane filters, valuable materials for the production of batteries are extracted directly from it, and the remaining water is injected back into the deeper layers. . In contrast, lithium carbonate is currently mined mostly by companies using evaporation and sedimentation technology in giant ponds,
It is less effective and distorts the landscape.
DLE technology, which has not yet been proven in large-scale industrial applications, is more environmentally friendly and requires less space compared to sedimentation tanks, but it requires a lot of energy and water. According to the Bolivian authorities, CATL and its partners will mine in an environmentally friendly way in the future and will take care of the environment, and they stated that the investment value could increase to nearly $10 billion over the years. The Chinese company has not yet responded to the US news agency's inquiry.
Why is lithium so important?
Lithium is one of the three elements formed at the beginning of the universe, along with hydrogen and helium. Along with nickel and cobalt, white gold is an essential material for electric batteries and can be mined from salt water and hard rocks. Its processing is very polluted, and DLE technology is going to change that. lithium A silver-white alkaline metal with good electrical and thermal conductivity. Lithium is not only essential for batteries for laptops, computers, and smartphones, but it is also indispensable for electric vehicles.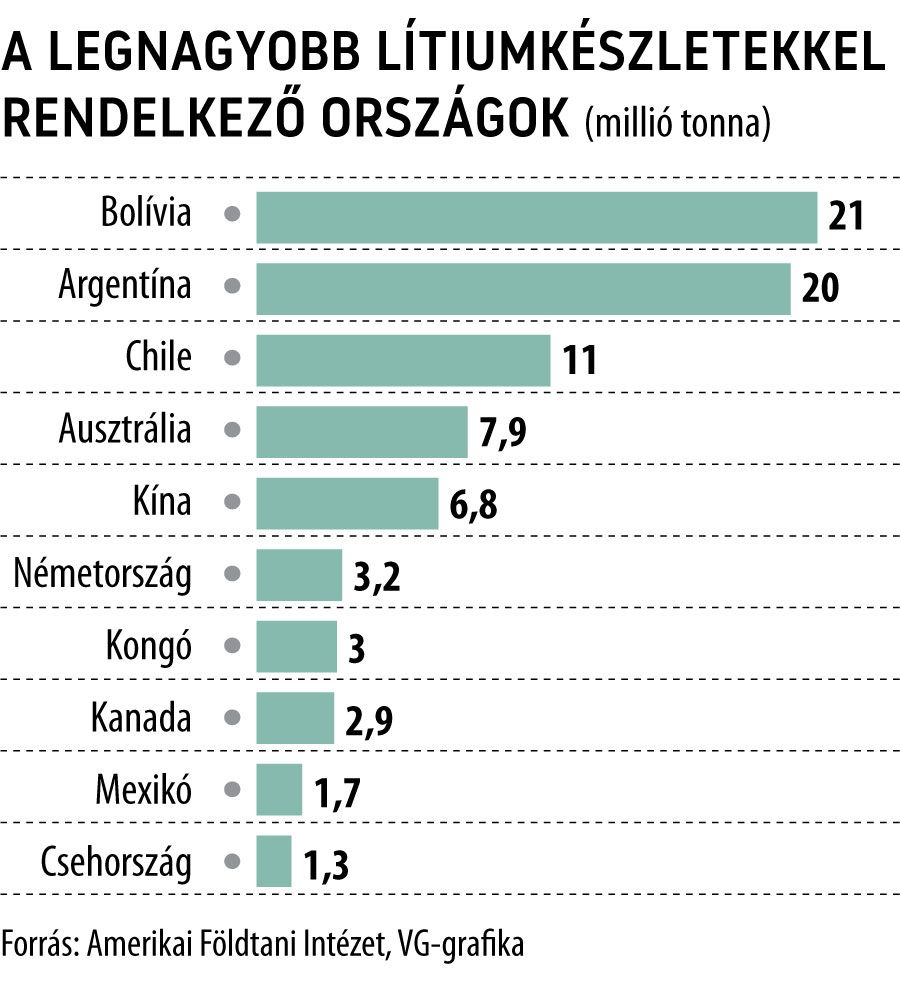 According to the International Energy Agency, the world needs 60 more lithium mines by 2030 to meet governments' plans for decarbonization and electric vehicles. Bolivia has the largest known reserves, followed by Argentina and Chile. South American countries followed by Australia and China. According to the USGS, there are huge unexplored reserves in South Africa and Russia. Currently Chile is the largest producer in South America, but the expansion of the Chinese would change that.
As lithium is used in electric vehicle batteries, the raw material has become the focus of global competition. This pits the world's largest car manufacturers against each other and engages governments in a struggle to increase and guarantee supply. The largest manufacturers of e-cars (Stellantis, BMW and Tesla) have invested in startups dealing with lithium or entered into long-term agreements with mining companies. Battery manufacturers have also turned to mining.