Australia and Montenegro also flagged the VLV
On Sunday, the Hungarian national team continued its performance at the international U-20 preparatory tournament in Belgrade, with two victories. In the morning they beat Australia very smoothly, and in the evening they proved that they are one goal better than Montenegro. formulations:

Belgrade U-20 Cup Day Two
Hungary – Australia 13: 3 (4: 1, 3: 1, 3: 0, 3: 1)
G: Leinweber 3, Ekler Zs. 2, Varga V., Vismeg Zs., Lakatos S., Szalai P., Tátrai, Klár, Ákos Nagy, Vince Vigvári
Montenegro – Hungary 11:12 (4:3, 0:6, 3:1, 4:2)
G: Lakatos S. 3, Mészáros M., Tátrai, Ákos Nagy 2-2, Varga V., Leinweber, Zs Ekler.
Robert Coves, VLV Federal Coach:
– The beginning of the game, the first quarter and half, was very hectic, and the two teams took turns taking the lead. We controlled the game from the second quarter on, leading 9:4 at halftime. The big advantage slowly faded at the end, but our win wasn't in jeopardy at the end either.
Tomorrow we will have two matches again, at ten in the morning we will play against the Croats and at eight in the evening against the Serbs.
---
It is interesting, by the way, that the Croats, who easily beat the host Serbs on Saturday, lost to the American team on Sunday (which, of course, we beat in a close match, but we definitely beat them – according to them., this meeting was a good warm-up match for the States United States of America…)
Also present was the vlv employee at our Sunday morning game, who finished his work at BLF8 on Saturday evening.
After the dominant victory over the Australians, we spoke to two players who had never posed in front of a vlv camera before. (There will be pictures, too.)
VLV Videos:

Oliver Leinweber for vlv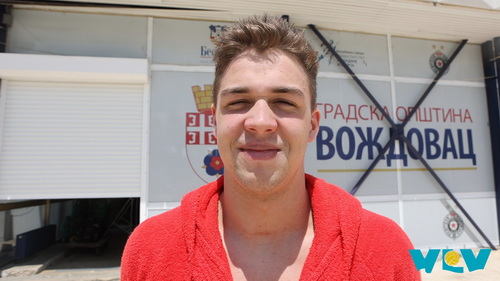 Dávid Tátrai on vlv