Behavior Interactive revealed its plans for the franchise during a livestream.
Over the years we've seen many multiplayer games based on asymmetrical concepts arrive with a large vest and then leave with a tucked tail, but where they evolve, Friday the 13th: The Game, Fable Legends, Shadow Realms and more bloody, Dead by Daylight have managed to harvest it. Behavior Interactive has been keeping the creativity going for seven years now, and thanks to cleverly designed crossovers, it has even managed to increase its popularity.
For the upcoming anniversary, the developers have shown in a livestream what awaits fans in Year 8: We bring Nicolas Cage, get a taste of sci-fi horror, and as it turns out, a single-player experience is also being prepared.
Over the next twelve months, new chapters will be added to Dead by Daylight, two of which are tied to some kind of license, while the remaining chapters are entirely the brainchild of the developers. The first adventure begins on June 14, called End Transmission, where we have to try to survive on an alien planet in a jungle-like environment (Toba Landing is the name of the map), while an artificial intelligence infected with extraterrestrial technology called the Singularity tries to kill us. With the BioPods he puts on, he can spy on and teleport to other players. We also get a new survivor, technician Gabriel Soma, as well as an EMP device to counter the killer's tricks.
While you're busy discovering new content, developers are working to adjust perks, rebalance maps, and let bots take over for players who drop out (due to poor internet connection or otherwise). In addition, they also work to ensure that our results accompany us everywhere, should we move to another platform.
And for those excited about cosmetic content, expect things inspired by Iron Maiden and Slipknot, as well as designs by The Fog Collection, made up of community members, and Ikumi Nakamura, visual designer for Bayonetta, The Evil Within, and Ghostwire: Tokyo.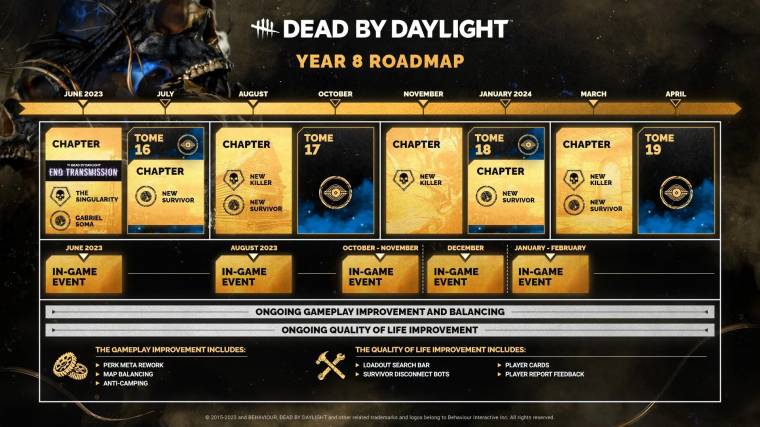 Behavior clearly isn't ready to let go of Dead by Daylight just yet, and is already working hard to enrich the franchise with new projects. For this, he teamed up with Supermassive Games (Until Dawn, The Quarry, The Dark Pictures Anthology) to direct a single-player story-driven game. As for the multiplayer, including PvE experiences, another game will take care of them, for which Midwinter Entertainment is responsible. The theme of this will be hunger for power, and it will be played by four people. But the team hasn't forgotten about the visual novel Hooked on You, and is currently considering bringing it to consoles as well.
We still have a lot to tell you, you can find everything interesting here!
"Communicator. Total coffee buff. Tv fan. Passionate twitter aficionado. Amateur bacon geek. Devoted internet expert. Avid analyst."