Turkish police dissolved the crowds gathered at the Pride March in Istanbul, with dozens arrested, including journalists, and tried to prevent the incident from being recorded, he wrote. euronews.
The news agency reported that assault police raided several bars in Cihangir area near Taksim Square before the protest began, and arrested "accidental" people, including an AFP photographer. Bulent Kılıç, an award-winning photographer with experience in conflict zones, was handcuffed, his shirt torn, and he was taken to a police car with others. He was arrested last year under the same circumstances.
The arrests came after authorities ordered a ban on gatherings in "open and closed spaces" this week to prevent the Pride March.
In early June, Turkish police arrested 11 LGBT activists in Istanbul who had gathered to celebrate the start of Pride Month. The activist claimed that they were "tortured" and posted pictures of the injured wrist and leg.
Since the 2014 parade of more than 100,000 people in Istanbul, the Turkish authorities have banned the event year after year, officially for security reasons. Today hundreds of protesters waving rainbow flags gathered near the famous Taksim Square, which is completely closed to the public.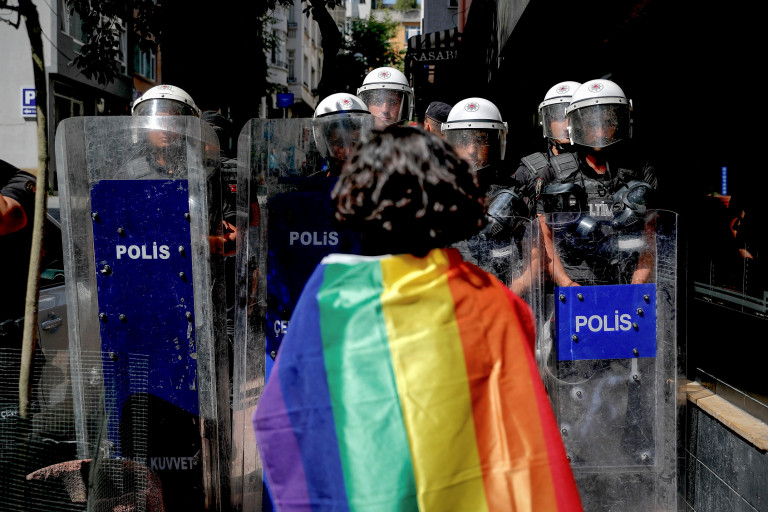 The police also raised the incident last year: tear gas was used to disperse the crowd and dozens were arrested while hundreds protested the ban. The incident sparked protests across the country, including the capital, Ankara.
Turkish President Recep Tayyip Erdogan previously criticized LGBT activists in the country, likening them in 2021 to vandals. (euronews)