– In December at the age of 48 as a goalkeeper coach He was included in the NAC Breda team of the match In the Dutch second division against Almere City. What exactly happened?
– The day before the match, goalkeeper No. 1 tested positive for coronavirus, and three hours before kick-off, goalkeeper No. 3 also tested positive. The second goalkeeper saved the match, but the question of who would sit behind him on the bench hung in the air, as both of the U21's goalkeepers were injured. We asked a 17-year-old U18 goalkeeper, as well as the club quickly asking for my playing permit, so I could be used on paper. However, the chances of playing it were very slim. Its smoke was greater than its flames.
He retired more than seven years ago. If it turns out his defenses are still needed, was he up to the task?
"I even stayed at the gate." It happens during training that I enter the game between each other to defend, but to be honest, it was not my ambition to stand in goal for a long time. I feel like my physical condition is completely different than it was in 2015 when I stopped playing.
– He defended in more than six hundred professional matches in his clubs. What is the beauty of the goalkeeper's role?
– I was 11 years old when I started playing football, I started as a field player, but since there was no goalkeeper, I entered. My father was also a goalkeeper in Sopron in the second division, and it was probably also necessary for me to find myself in this position. It's a big responsibility, because if you score a goal in dribbling, everyone laughs at you, but I'm aware of the fact that there are situations when only a goalkeeper can give strength to the team with one save. That's the best thing about being a goalkeeper.
– Speaking of desired goals, do you have anything that left a deep imprint on your memories?
– Well, in my 4th NB I match with Sopron, we lost 1-0 away to Ferencváros with a penalty goal. There were twelve thousand people in the stands in Ślői t, I was an inexperienced 19-year-old, and the ball slipped between my legs after Gabor Zavadzky's shot. I had to quickly learn that mistakes are part of the game, but the only way to achieve long-term results is to beat them, which requires being in perfect shape both mentally and physically. I was fortunate that the coaches and teammates still believed in me at Sopron, I still had the opportunity, and MTK signed me the following year.
The goal scored against Fradi:
– And there, he soon made his mark as a goalkeeper and joined the national team.
Laszlo Kakas was the goalkeeper coach, and I worked with him together for many successful years. We had a great team with Béla Illés, Gábor Halmai and Emil Lőrincz on the field, we celebrated trophies and cup victories, between 1995 and 2000 MTK was one of the best Hungarian clubs.
– At the end of the said period, Dutchman Henk Ten Cate became head coach for one year, and had a great influence on your career.
– I was able to make a good impression on him at MTK, because in 2000, when he returned to the Netherlands and became the technical director of NAC Breda, he took me with Csaba Fehér. My overseas career started well, as NAC was still in the second division a year ago, and then soon we got into the UEFA Cup, and I was voted the tournament's best goalkeeper.
Right after that, in the summer of 2004, he signed with Feyenoord. This was a big opportunity in his career, he joined a club with a long history, but he left after a year and a half. What is the problem?
– If you look back on my career, this was the only team where I didn't make it. Feyenoord won the UEFA Cup two years ago, but the successful coach Bert van Marwijk left immediately after my arrival, and Ruud Gullit replaced him as head coach. They began to build a new team, there were many armies, as I had the opportunity, I defended in total 29 matches that season, including the UEFA Cup match against Fradi, which ended in a 1-1 draw, in principle I was the first. A goal keeper. Honestly, it was not the best season in my life, and a year later the club leaders told me that I would most likely be a substitute in the future or would go on loan. That's when I joined NEC Nijmegen, where I spent another successful eight years. In 2008, he was again elected the best goalkeeper in the Eredivisie.
– Do you sometimes think if it is better to stay at Feyenoord and fight for your place?
"I've thought about this a lot at the time and since." I've always wanted to play on a smaller team, and it just wasn't something that interested me. I know myself so well that if I had only trained all week and at the end of the week I could not stand the goal, I would have become unhappy. Even in retrospect, I don't feel it was a bad decision to leave, because for example the 2008-2009 UEFA Cup appearance with NEC, during which we lost to Hamburg in the direct knockout stage, was a huge success in my eyes. .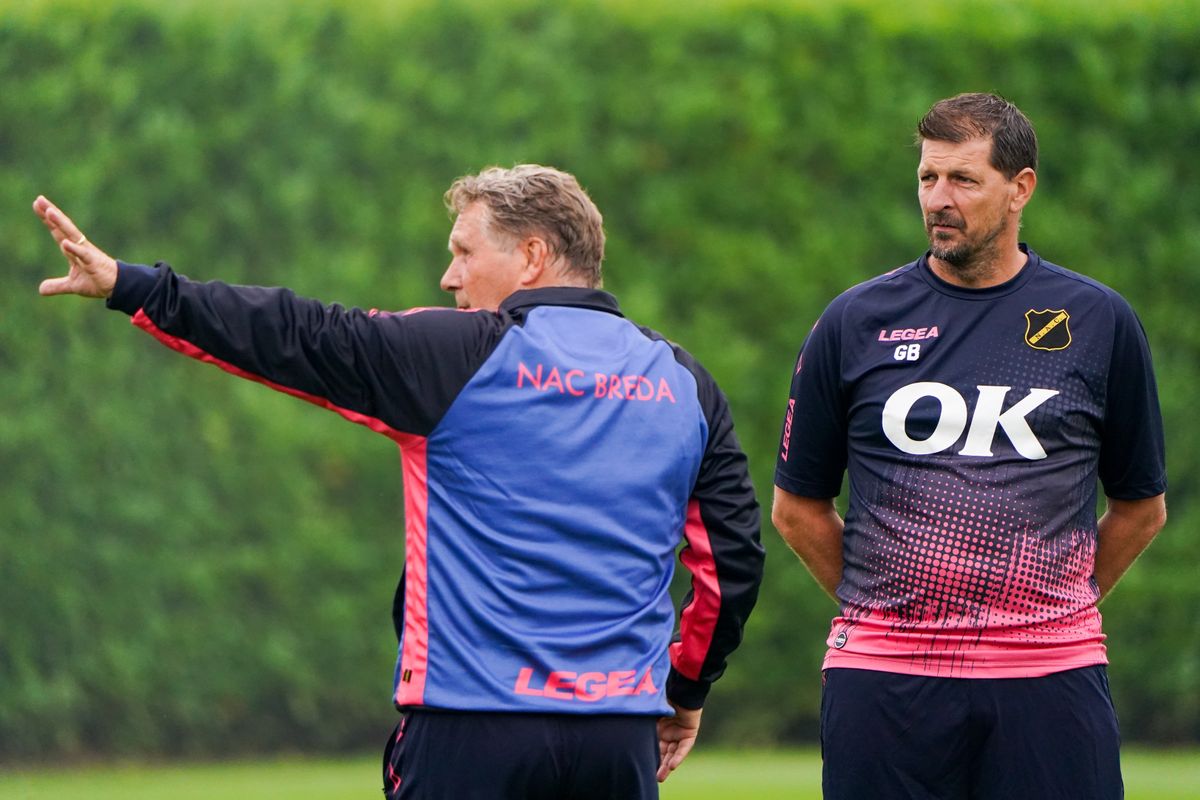 – Henk ten Cate was Barcelona's second coach alongside Frank Rijkaard in those years, then managed Ajax and also worked in Chelsea's professional staff. Has there been any talk of working together again?
– When he left NAC for Barcelona, ​​we kept in touch for a while after that, but we have to remain realistic: although I am satisfied with what I have achieved, from a self-critical point of view, Barcelona would have been the next step for which my skills were not enough. On the other hand, it was said that Ajax would sign him, but they would only buy him as the number two goalkeeper, and I, as I said, always wanted to play.
– In the national team, most of the time there were substitutes.
– There is a simple explanation for this: Gabor Kirali was standing in front of me in the queue. With more or less interruptions, the two of us have been the goalkeepers of the national team for more than ten years. We started with him in defense in the Bundesliga and at Hertha, and I'm in the Dutch midfield team NAC. From my point of view, Gabor Kirali was also in front of me, so I considered him to have the confidence of the federation leaders. He's from Szombathely, I'm from Sopron, even if we didn't meet, we always got on well, and we were often roommates in the national team. I can't help but speak loudly about his career. He's defended 108 times, I've defended 27 times in the national team, but I've been on the bench about seventy times. That's not bad either, is it?
"Wannabe writer. Passionate troublemaker. Award-winning beer buff. Freelance organizer. Friendly tv practitioner. Music maven."