Telex: Refrigeration of foods for heat waves
It's warm, in a dark, hermetically sealed apartment, we try to live with a fan. We know very well that in such cases we would indeed need more liquid than food, and yet people eat, perhaps more on the basis of habit than on real need. When it's hot, it's not just the food itself that makes us feel hot, for example, if it's hot, heavy, greasy, spicy, or sugary. Also because of the way we prepare it: standing by the stove is uncomfortable, turning on the oven is insane, but the longer the same time, the more painful it feels to be in this case. You need food:
cool, but more nutritious than buttered bread;
Preparation is not complicated, and you do not have to spend a lot of time in the kitchen;
Non-greasy, easily digestible, rich in liquid;
But it's more satiating than your average vegetable salad;
It needs no flame at all, or if necessary, it burns only for a short time.
Our traditions don't really offer good solutions to this life situation, I respect those who can stir hot meats and soups in pots by the fire, and sweat in the sun, but I only want that in October. Our old summer recipes also take a long time to cook, we even cook cherry and bird's milk soup – a joy for those who eat it, but suffering for those who sweat next to it.
I usually find stomach writing in English great fun and inspiration, but when it comes to hot flashes, they somehow don't talk about the same things that I do. Let's cool down, they say, and then immediately recommend grilling chicken and grilling vegetables over a gas flame. Or they tell us to eat green salad and carrots, but that leaves us hungry.
In fact, it is a purely anthropological matter, that is, the nation responds to every phenomenon with which customs interact, for example in many cultures, for example in China, hot food, soups, tea, spicy, hot and narcotic dishes are consumed at this time. They're not completely stupid, though, because they make you sweat more, and then cool off as a result of the moisture coating the skin.
Now, in the first round, we are dealing with foods that are cold and prepared without cooking or with very brief heat treatment, and then hot human experience can come.
You always need soup, especially when you can't drink enough. I wrote about the best cold soups a couple of years ago: cherry soup, Spanish garlic-almond soup and its tomato-cucumber successor, gazpacho, and Greek chicken-lime soup, all of which can be rotated all summer long. This year, I will probably make Russian cold soup a hundred more times and it reminds me of a salad drained with plenty of juice, but at the same time amazingly filling and nutritious. Although, unfortunately, the potatoes and eggs must be boiled, this still falls into the category of a very survivable cook. It's best to make it late at night, when the air has moved around a bit, and you'll just have to eat it for lunch the next day.
Okroska (cold Russian vegetable soup with kefir)
Basic materials:
3 medium potatoes
4 eggs
4 months of radish
Big cucumber snake
(or two salads/cluster option)
A box of green onions
150 grams of sour cream
100 grams of kefir
1 liter of water
2 tablespoons of weak vinegar
A teaspoon of grated radish
salt pepper
A big bunch of dill
100 grams of smoked ham
I put the potatoes in their skins to cook in the hot water, and ten minutes later I add the eggs. So after another ten minutes, when I take the eggs out and put them in the cold water, the potatoes are completely soft. I quickly peel their skins off and while they're cooling, I chop the vegetables. In a large, deep bowl, I put the diced cucumbers, the radishes, the ringed scallions, and the chopped dill.
In a separate bowl, mix sour cream, kefir, vinegar, horseradish and salt until smooth and pour water over it. Meanwhile, I also chop the cooled potatoes, add them to the other veggies, and pour the kefir juice over everything. I put it in the fridge, it would be better if it had a few hours to cool down. I peel the eggs, cut them into cubes, and cut the ham into very thin slices, put them separately in the refrigerator and add them to the dish only when serving.
Bean salad with tomatoes and mozzarella
My early experience with bean salad brings up the aroma of stale, pickled onions, and nothing else. However, a salad made from beans or any other legume is one of the most practical things in the whole world, especially at this time. It is nutritious, a food source rich in protein and carbohydrates, the raw material for the future, it can be very well diversified, and it can be kept in the refrigerator for days. It's tastier fresh or if you soak and cook it dry, but in that case, during those hot few months, it's possible to make it canned.
The base is a good sauce, which is absorbed by the beans, so it is worth leaving it to soak for a couple of hours, because time will acquire more and more flavor. Aside from that, what fresh vegetables, cheese, seeds, and seasonings are included is a matter of taste and pantry, and just continued with the caprese salad.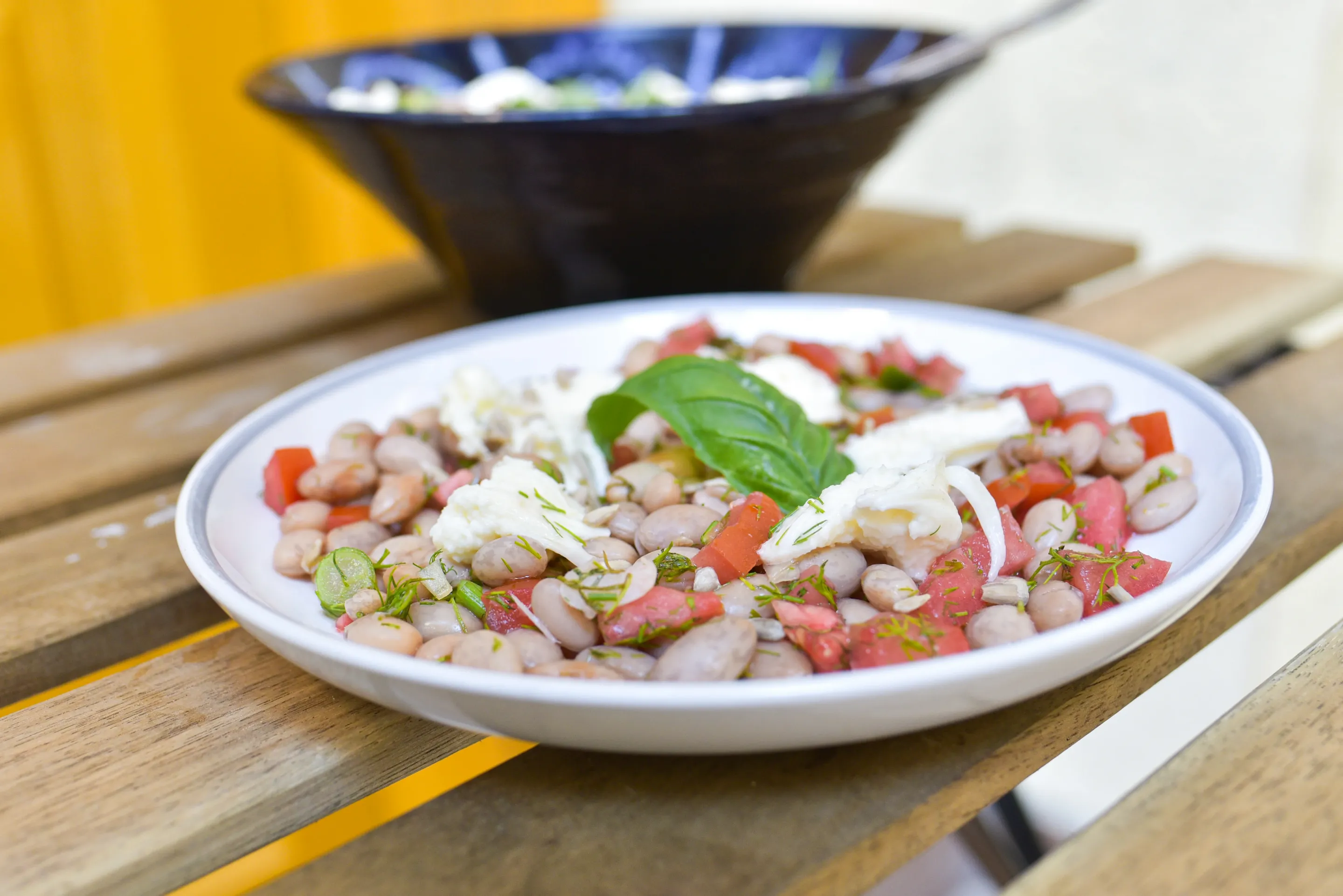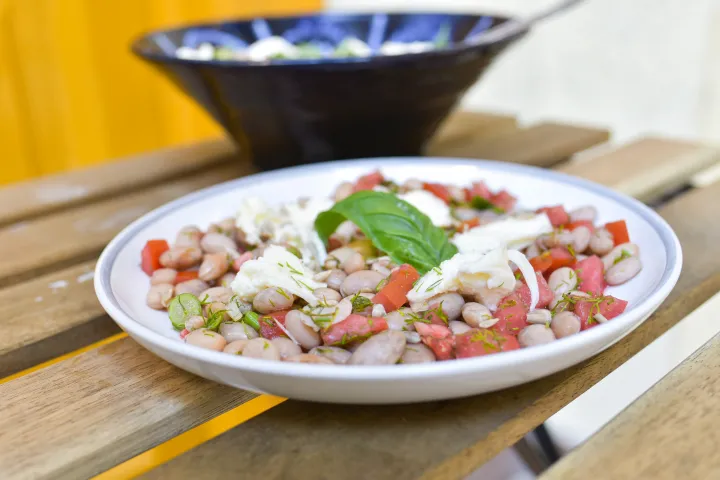 Basic materials:
Half a kilo of beans (canned or of course fresh and cooked)
2 large tomatoes
mozzarella
For the seasoning:
2 tablespoons of apple cider vinegar
2 tablespoons of olive oil
salt pepper
Fresh basil
I start with the dressing, mixing it in the bottom of the salad bowl: vinegar, salt, pepper, oil – that's the order, then mix. I drain the beans and sprinkle them directly into the sauce and mix. I cut the tomatoes into bean-sized cubes and add them to the beans. I shred mozzarella and mix it into my salad, and finally I shred fresh basil on top.
Fortunately, as Middle Eastern cuisine becomes popular, dips also play an increasingly important role, but more classics also need to be baked and cooked, and although they are delicious to eat, they are less important. Yogurt, cottage cheese, and mixable cold dips, such as feta or foam cream, or whatever you like, are fine at 36°C. The point is very simple: mix the feta cheese with a few tablespoons of sour cream or yogurt until creamy. Then you can garnish it with seeds (pistachios are great for those who can stomach them), fresh vegetables, and more. I used half of the current portion for dipping, and the other half for the corn as a sauce.
Frothy Feta in two ways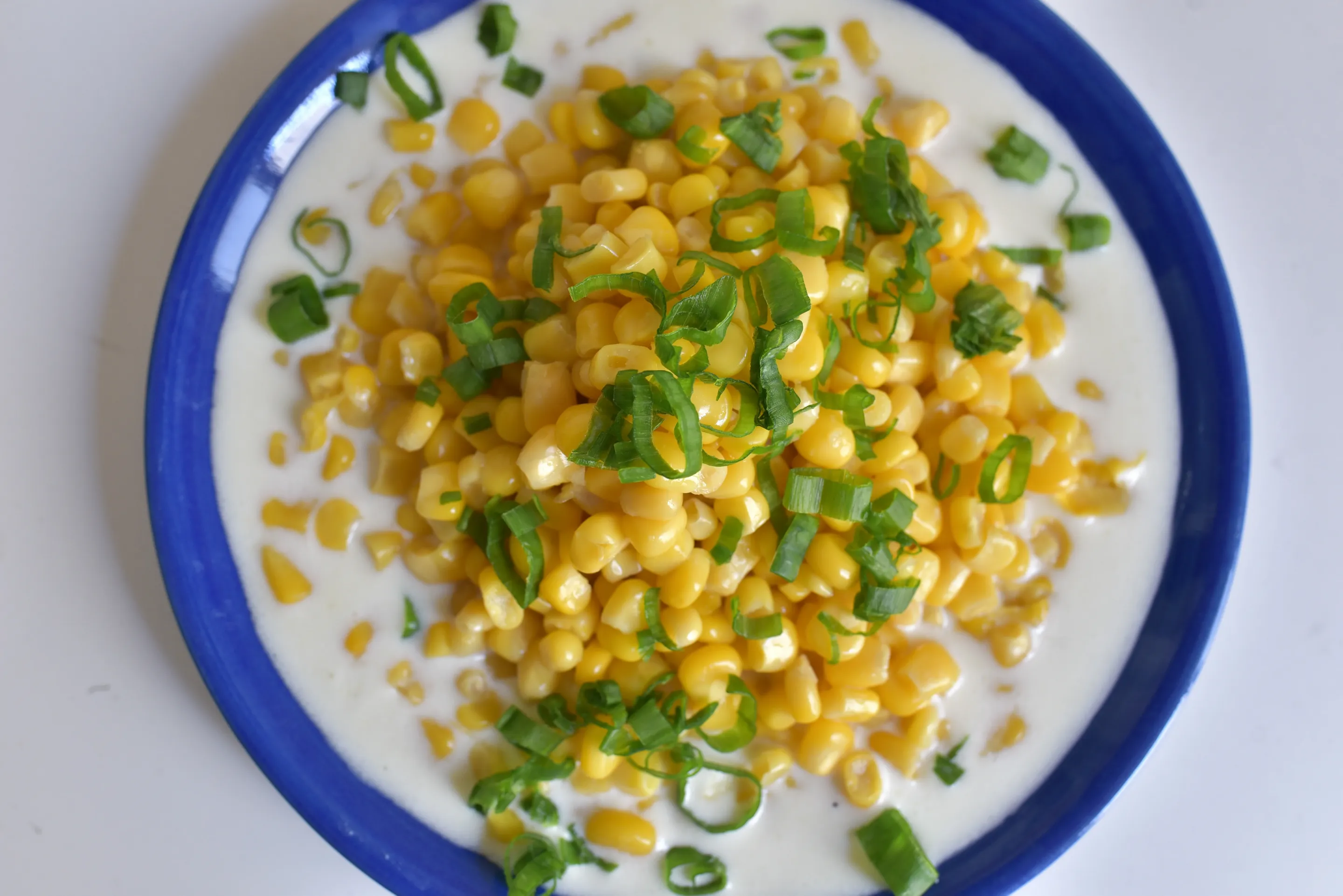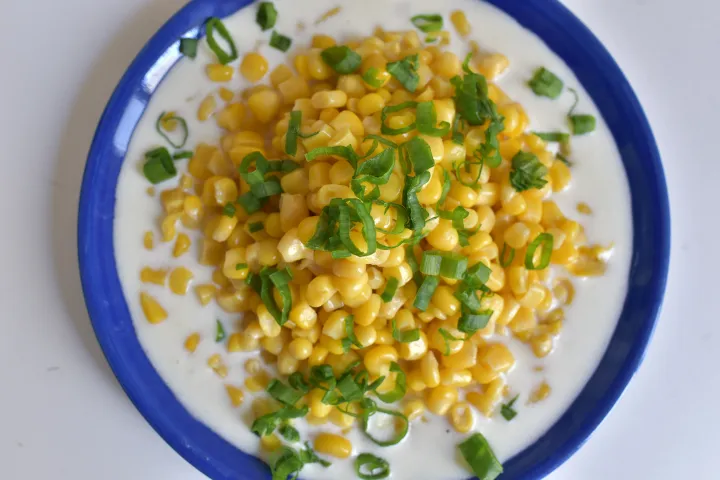 Basic materials:
a packet of feta
2 tablespoons of sour cream or thick Greek yogurt
Juice of half a lemon
3 tablespoons of oil
1 tablespoon of honey
I blend the ingredients in a food processor until everything is creamy. If it's too thick, I add more yogurt. I serve it as a dip with slices of carrots, cucumbers, and fresh peppers, or as a topping for corn.
Cold noodles with sesame and vegetables
Since our last visit to Chinatown, I've been wanting to try this dish, which ended up being a bit better than the original, also very simple and popular with all ages. Given my ancient connection to Italian gastronomy, I thought it was a sin to eat cold pasta, but with this recipe it's not. You just have to get the right consistency, which consists of a mixture of thick paste and cooking water.
I made the mistake of frying the tofu cubes, which were totally sweaty – if you want to skip this experiment, you have to buy ready-made grilled chicken from the supermarket or simply leave this topping on. Vegetables can also be varied, the main thing is that they are fresh and crunchy. Sesame cream is originally a Chinese sesame paste, but it can also be easily prepared with tahini, so it is easy to get. I made her homemade cream by chopping toasted sesame seeds in a knife grinder until it becomes a thick paste. The Asian ingredients used in the food are discussed in more detail here.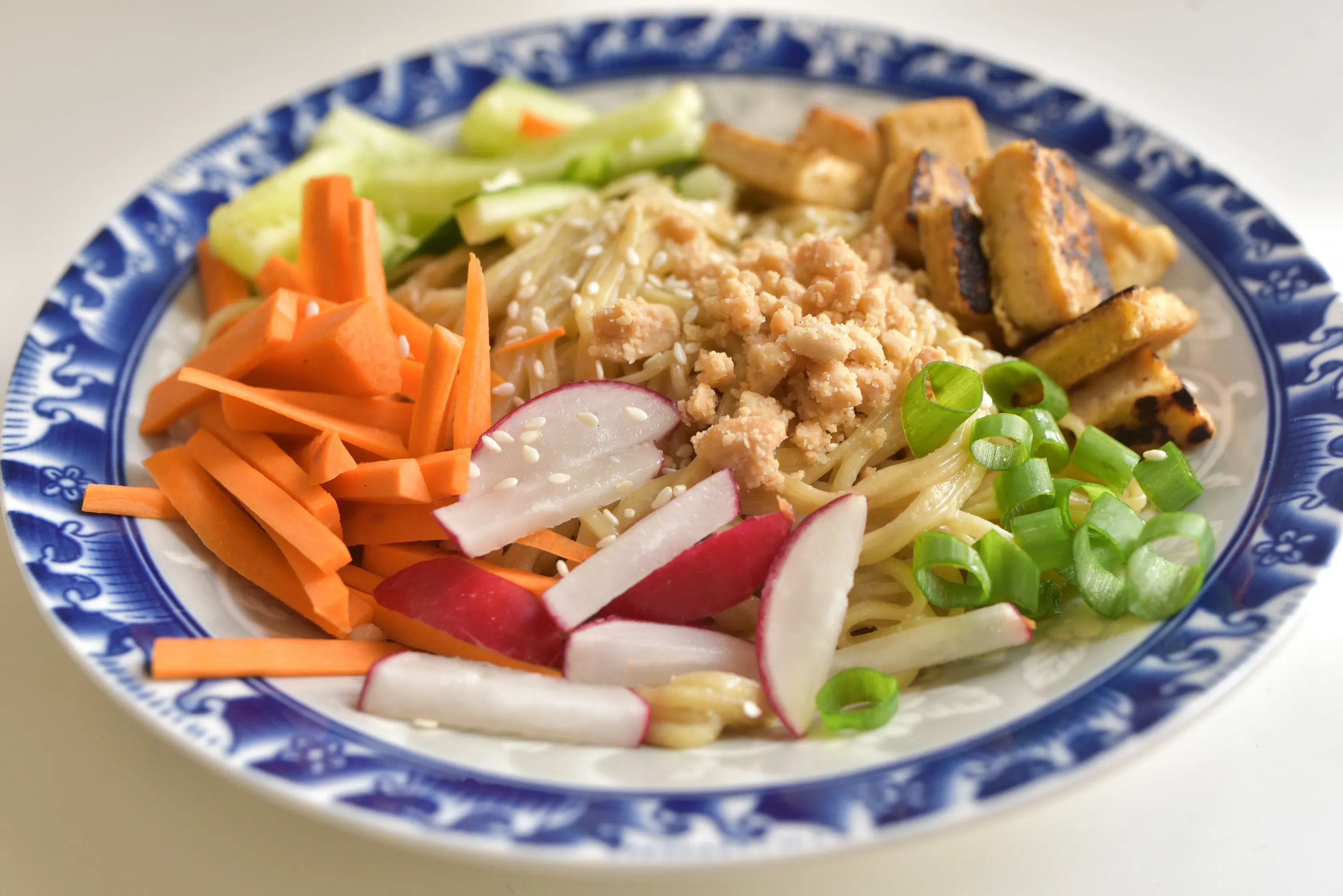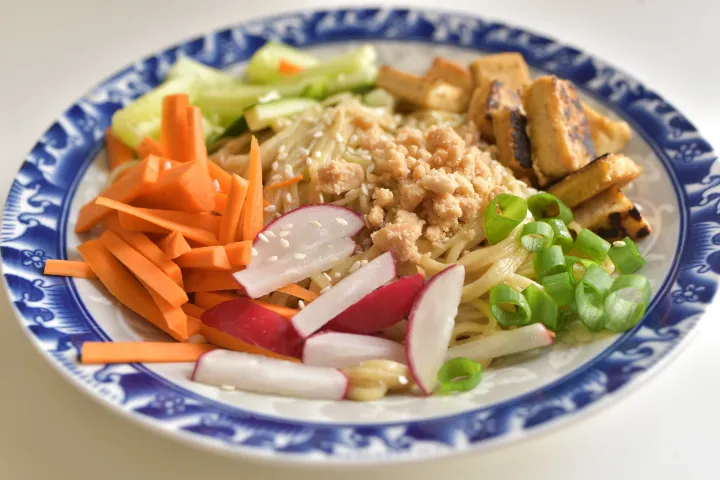 Ingredients for about 4 servings:
Half a kilo of ramen noodles or plain spaghetti
70 grams of tahini
3 tablespoons of light soy sauce
1 tablespoon of vinegar (if someone has already been to an Asian shop, get Chinkiang vinegar for this, if not, other nice vinegars are fine too)
A tablespoon of sugar
of nearly all the cooking juice from the pasta. one dl
dried chili peppers, chili oil or chili flakes
Half a cucumber snake
baby carrot
3 green onions
Two big handfuls of peanuts
250 grams of tofu / fried chicken
First, I cut the vegetables into matchsticks and set them aside. I grind hazelnuts in a mortar or in a bag with a rolling pin. Then I mix the ingredients for the sauce in a small dish: add the soy sauce, vinegar and sugar to the sesame paste and mix. If I use tofu, I cut it into cubes, sauté it in 1-2 tablespoons of cooking oil until crispy in a skillet. If I use ready-made fried chicken, I cut it into pieces.
I cook the pasta, set aside a small cup of the juice, and put the pasta in a large bowl. I carefully pour the cooking water into the whipped sesame sauce, until I get a cream-soup-like dressing. I sprinkle the dough with this and mix it well, it will be fine if it is sloppy, not dry, but creamy. Divide it into four deep plates, and sprinkle with vegetables, chicken or roasted tofu, and crushed peanuts.
Cool and sweet
For dessert, homemade ice cream with sticks should obviously be served in such weather, moreover, fruit juice popsicles can be eaten in regular order throughout the day. If you're brave enough to cook for a short time, make bird's milk, because the cooling time is slow, and the stove only runs for ten minutes. And if you want to serve a no-bake cake or dessert in a more elegant way, follow this cookie-and-sour cream-packed solution—instead of strawberries, use peaches, raspberries, currants, whatever.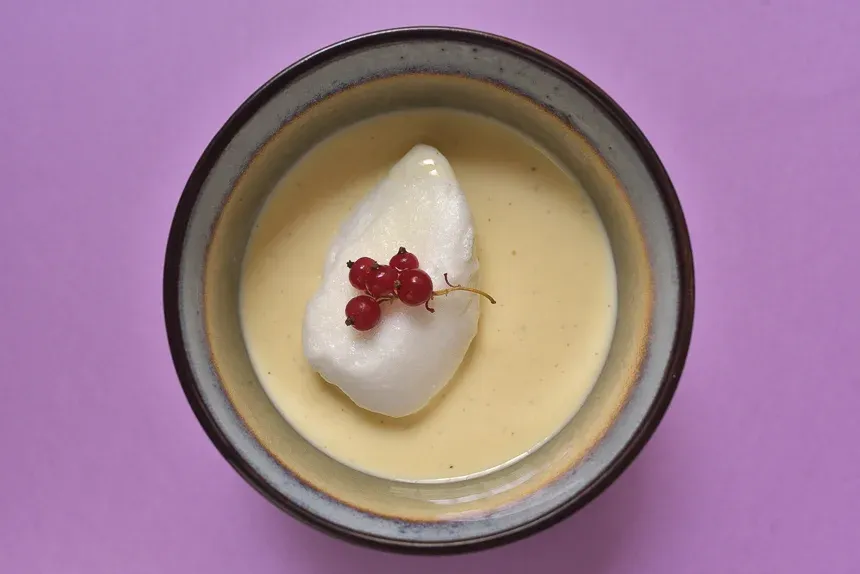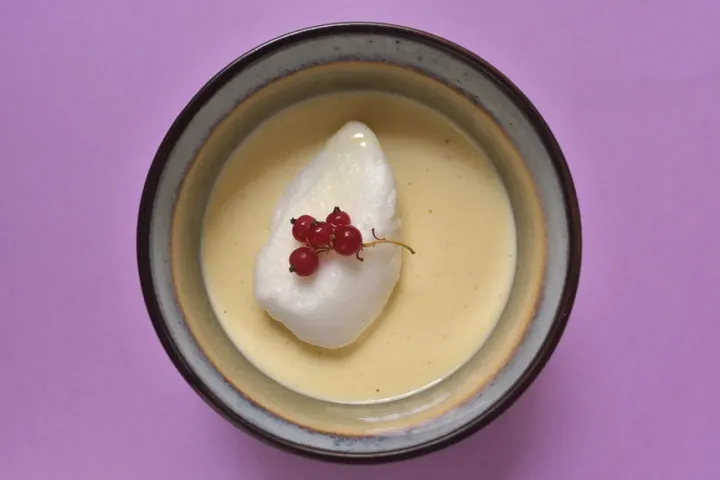 And to quench the thirst, you can mix up an ice slush of fruit, syrup, cola or ice cream – here are the techniques.
Our other great cold dishes: