The latest Renault T series of trucks underwent a facelift two years ago. At that time, the dashboard was not touched, or hardly touched, so it has been produced with basically unchanged equipment and chassis since 2013. However, the Polish website 40ton.net recently discovered that Renault Trucks has made up for an old defect: it has updated the dashboard driving, but it is not yet known whether this applies to all members of the series or only to the electric version of the E-Tech.
The same was broadcast by the French manufacturer in a video on Facebook, which basically shows a purely electric semi-trailer truck. Renault Trucks officially announced at the end of last year that it would do a facelift on the electric models of the T and C series, and despite this, not a single photo of their interiors appeared for a long time.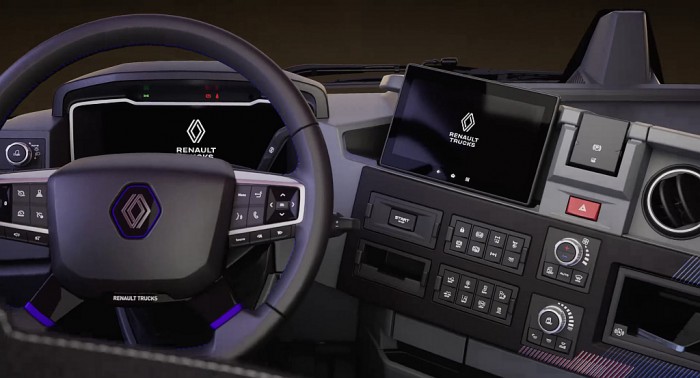 According to the signs, although the dashboard structure will not change, it will take a very serious step forward in terms of digital solutions, since the instrument panel behind the steering wheel will become completely digital. The steering wheel has also been changed, replaced with a smart steering wheel similar to the version used on the Master E-Tech. The company's new logo can be seen on the steering wheel, and the lower spokes have blue stripes that denote the electric drive system. The digital screen used in the center console that was originally integrated was replaced with a larger, non-reflective screen. Of course, you shouldn't ignore the airbag either, in the T E-Tech it is already in the steering wheel.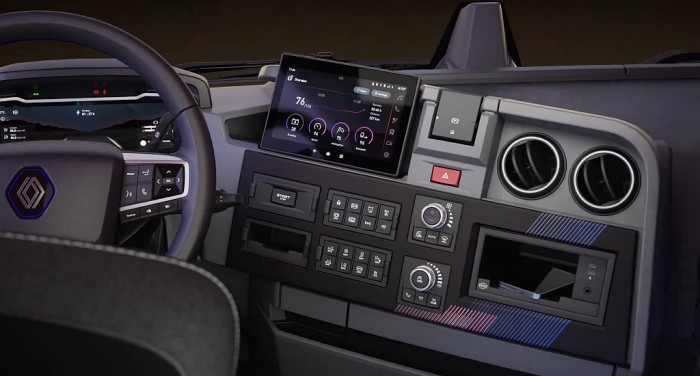 There is no change in terms of placement of the toggle button groups, they can still be moved at will, if the customer so desires. The console on the right side of the dashboard also remained, which Renault Trucks often install in carbon-embossed versions of the Sport Editions. On the AT E-Tech, thin white and blue lines alternate, indicating the battery technology's drive chain.
While induction phone charging is becoming increasingly common in passenger cars, few truck manufacturers have considered this solution yet. Renault Trucks doesn't want to miss this either, which is why T E-Tech now has a separate rack for wirelessly charging smartphones.
source: Renault Trucks
Image source(s): Renault Trucks
"Friendly thinker. Wannabe social media geek. Extreme student. Total troublemaker. Web evangelist. Tv advocate."