One million kilometers are put on this bus in one year
The new MultiClass LE, still camouflaged, underwent a very difficult skinning test. It is no coincidence, because quality, reliability and longevity are very important criteria in the long-distance and intercity bus sector. However, before bus manufacturers start marketing a new model, Setra also tests whether the bus meets all quality requirements.
During tests, one of the most difficult tests for buses is when they have to drive on very bumpy roads, especially bad roads. In this region, the MultiClass LE was tested on the track of the Daimler Trucks (EVZ) Development and Test Center, located in Würth, near Karlsruhe. This test track represents a variety of road surfaces – gravel, ribbed and potholed. Moreover, one of them has longitudinal baffles with a height of 70 mm. The latter car can be driven at a maximum speed of 10 km/h.
While collecting 1 million kilometers, the buses are tested not only on test tracks, but also on public roads. 100 km of testing distance is available to test the 1 km test track. In other words, the test path actually plays a smaller role than we might initially think, but its importance is still great.
Buses are often tested on the test track either loaded or unloaded. In this case, the passengers are replaced by plastic barrels filled with water, which have the same weight as adults. On the other hand, the trial drivers are real, and change every hour, so it's a bit tiring to always be on the same track for a long time.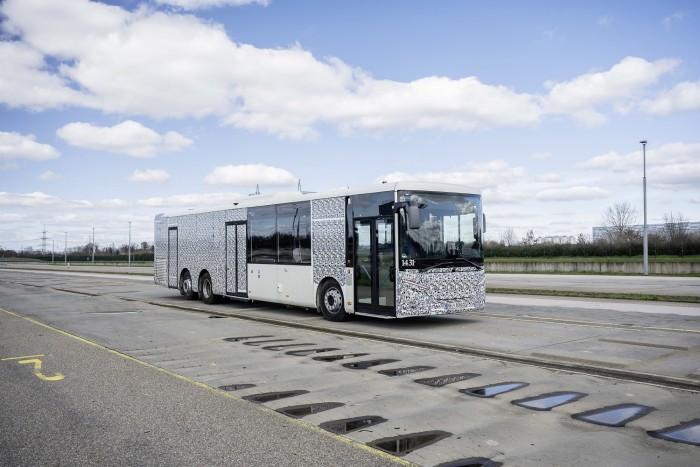 Of course, structure testing is only a slice of the whole pie. According to Daimler Buses, it is also necessary to experience the behavior of the bus during maneuvers, sudden lane changes and emergency braking. The latter is tested at multiple speeds. The Setra MultiClass S518 LE is by no means ready for mass production, as it is currently accumulating 1 million kilometers of mileage. The new three-axle XXL-sized bus has been hidden for this very reason. Who knows, maybe soon we will be able to admire the new Setra without camouflage?
What happens to the bus when it meets the required distance? Well, they took it back to the testing center to see how well the different components worked in training. Furthermore, the fuel tank and engine are also removed during this process.