On Children's Day in Zalaegerszeg, "tekerd!" group
During the day, one of the "Kitizen" murals by 34-year-old New York artist Rob Anderson unfolded hour by hour under the tent. The kids and their parents stood in line to put together a one and a half by one and a half meter picture. Mentoring teacher Zsolt Hudák introduced the enthusiastic youth team.
– We come from Miklós Wesselényi Technical College and Vocational Training Center College in Nyíregyház, and we were founded nine years ago. At first we played this classic building game just for our own amusement, then we left the school and were invited to more and more events. We have already been to the Museum of Fine Arts, the National Gallery, the Sziget Festival and cooperated with the Hungarian Embassy to the USA and the German Consulate. We are proud of the fact that we have an extensive international relationship, we have worked with graffiti artists from almost every continent. This year we started reviewing images of African street artists. What's new is that we are preparing a brand new self-designed mosaic for Sziget Festival.
What is the purpose of this community gathering? In the first place, young people in disadvantaged situations will graduate from school thanks to team cohesion and motivation. The initiative was not in vain. Many people stayed to train technicians after graduation and chose a second career. And the common goal is a real support force: there were students who already had families, many quickly found jobs, and they are respected. And it certainly happens that they are happy to come back even after they finish school.
– It is important to simply feel comfortable while traveling around the country – Zsolt Hudák continued. – At these events, not only is there a kind of camaraderie within the team, but those who sit in our tent talk casually and pass their free time merrily. Our goal is for everyone to leave with a positive experience.
And although it was lunchtime during the conversation, the little ones were already on their toes to finally get on with the construction of the mosaic wall. "roll!" In recent years, the group has applied to the LEGO Corporation to obtain raw materials, that is, the many building blocks. They design the pictures themselves, and the theme is decided together every year. This year, diversity, acceptance, and inclusion became the message of the photo. In Nyíregyháza, the school holds a 45-minute awareness program before creating the mosaic, after which the students sketch and paint their experiences and ideas related to it. So the work of an artist or student is revived year after year.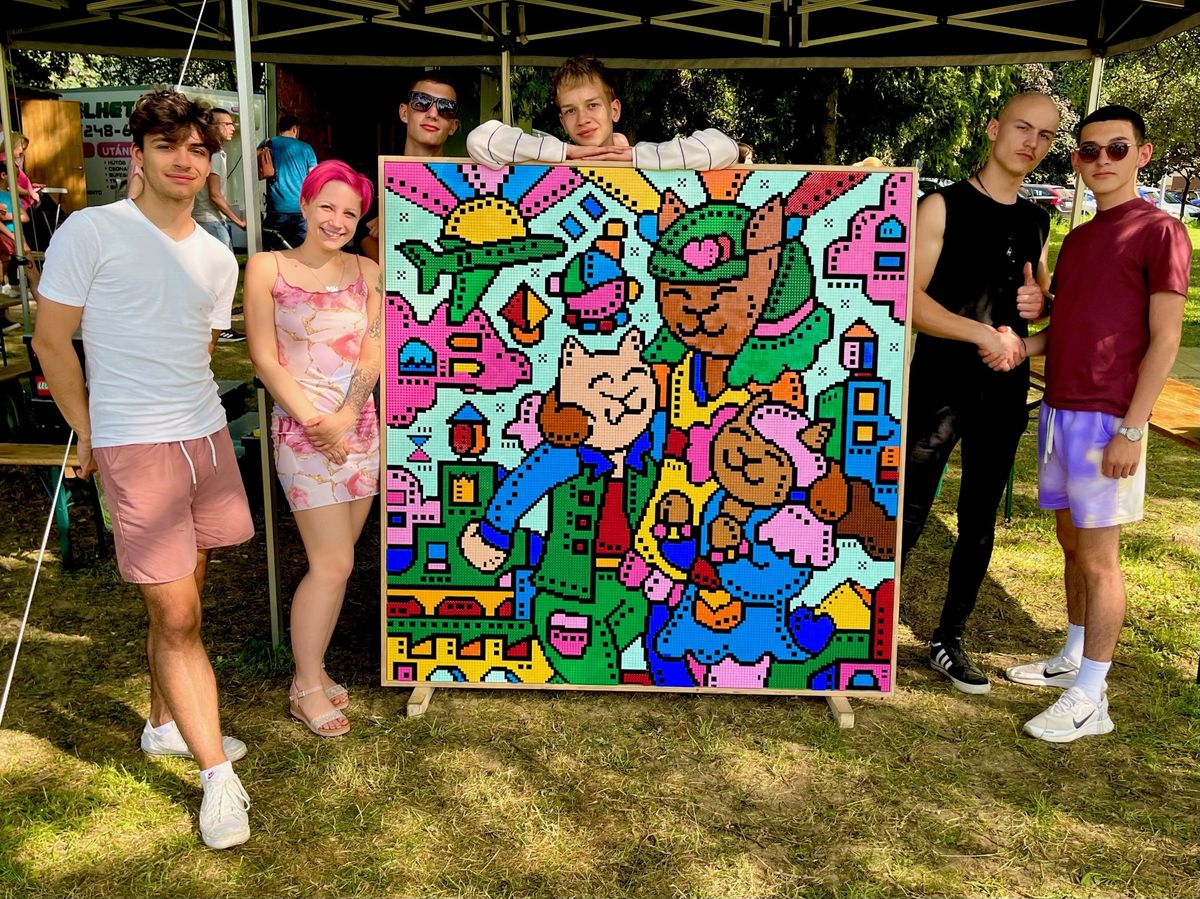 Zsolt Hudák finally added that no other group in the world had such complex professions and specific goals. And the result was not left in Zalaegerszeg either, the dice were rolled in many hands until the puzzle was completed.