In previous decades, the needs of people working on vehicles were not taken into account at all when designing tram stops.
Since there have been few trams in Budapest for decades, so-called round trip or terminus stations have been built in many places. Only trains consisting of two steam cars or two double cars are allowed to travel on those routes that do not have both stations with turnstiles.
However, on most round-trip stops, even if there was room for them, the sides were avoided, so the traveling staff (guides, drivers, inspectors) had nowhere to refresh themselves. Moreover, if several flights depart from the specified station, they cannot avoid each other if the train that arrived later has an early departure time.
Tram stop 33A is in front of Váci t
The situation for staff was worse at non-rotating stations. Often the tram arrived with difficulty, the driver could already run to the other end of the train or car, there was almost no time to stay at the station, and the so-called social building was not available.
From this point of view, one of the harshest tram conditions was Route 15A which runs on Pozsonyi t and Dráva utca. At Jászai Mari tér, the two tracks intertwined in a long section of the train, so when the next tram arrived, it had to start on that train. At the other station, at the corner of Dráva utca and Vácić, there was a slight junction in the middle only to turn back. Passengers got off the road, and there was no question of staying here for a long time. Thus, the staff could not relax anywhere after the tiring of the six-stop flight.
Tram 43 arrives at Nagytétény station
Those assigned to the long route 15 fared somewhat better, because if not at Jászai Mari tér, but at the final stop at the Újpest bridge, they found an opportunity to stand aside and social distance.
The eighth was similarly problematic. Also the location of the tram that runs around Ganz Colony on Vajda Peter Street in the area. At Delej utca station, although there is plenty of room for it, no stop or by-pass has been established. Therefore, the 20 and 32i (intermittent flight) could not avoid each other if there was a shortage, and even the other stop of the latter, at Pesterzsébet, had no possibility of standing aside or social adaptation either.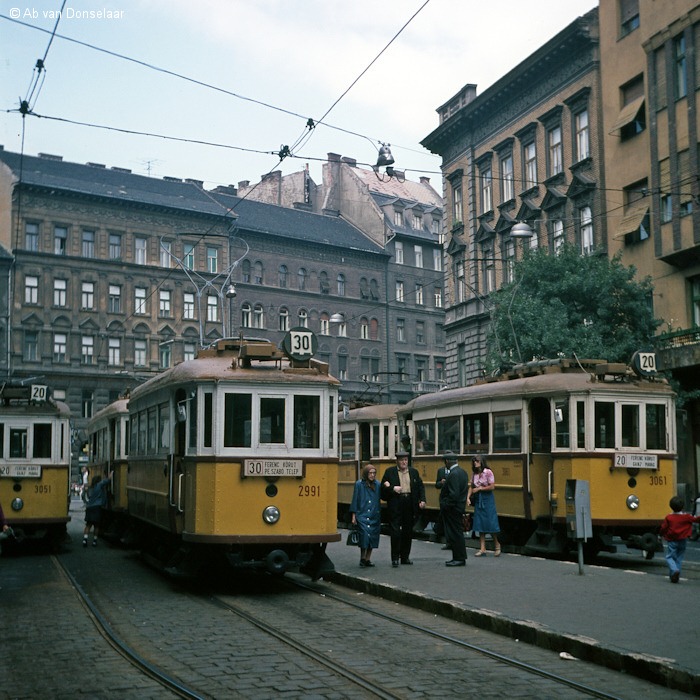 Lines 20 and 30 end at the beginning of Mester utca
Although the aforementioned tram services have ceased to exist, there are still services in them that, even if limited, were and still are opportunities to stand aside and socialize. An example of this is, among others, tram line 59, whose route turns in a curve at both ends, and there is also the possibility of parking aside, in fact, in both János Kórház and Farkasrét, drivers can relax in a relatively cultured way. Previously, the main resting place was in Farkasrét, but it has been moved to János Hospital.
Today, it is regulated by labor law – not only in the case of tram drivers, how many breaks between work. In the case of buses and trolleybuses, the situation was more favorable, because it was easier for them to stand aside at the stop. According to my calculations, in the past 60 years, let's say from 1963, there have been no less than 56 intermediate terminals or service places.
Pestújhely stop for trams 62 and 67
There were no waiting rooms at any of its stations: Routes 5, 15A, 33A, but in this regard, the provision of services for Routes 36 and 65 and the old Rakuspalota-Rakoszentmihalyl Route 69 was minimal.
Dismantled among the well-built terminals: at Móricz Zsigmond körtér, on the Krisztina körút side of Déli pályaudvar, at the Buda bridgehead in Petőfi híd (Goldmann György tér), at Budaörs, MÁV station, XIII. Visegrádi and Kádár streets in the county, Baross Square, Zugló and Rákos and Újpest Bridge, to name a few of the most important ones.
The inner station of tram number 5
They tried it in the past, now there is also a substitution method, when another driver takes the tram for one ride, but this is not the best solution either.
Image source: fortepiano
"Friendly thinker. Wannabe social media geek. Extreme student. Total troublemaker. Web evangelist. Tv advocate."