Artificial intelligence will be one of the core elements of the business strategy
UCC, as a business partner of IBM, assessed key factors for corporate implementation of AI in its survey of corporate decision-makers in Western Europe and the United States. According to their responses to the survey, half of medium and large-sized companies are already using AI on at least a trial basis, and another 37% of companies said they know about it, but have not implemented it yet.
Participants expect a significant impact from the application of AI in the areas of data management and analysis, customer service and support, marketing and sales, but they see great potential in product development and design, as well as in finance and accounting as well. in developing operations.
In terms of expected benefits, most decision makers participating in the survey highlighted increased efficiency and productivity (94%), but the vast majority rated cost savings (88%), as well as reduced reaction time and faster decision making. Important factors (87%) as well.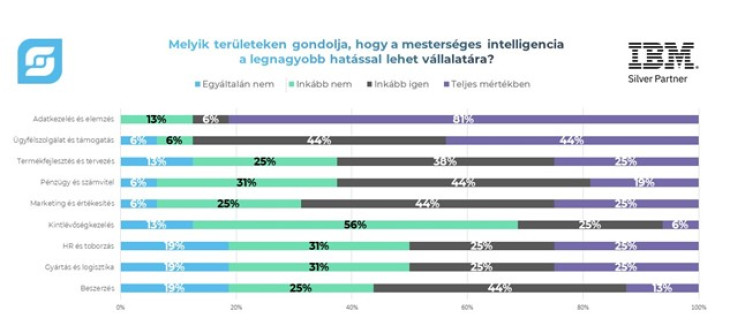 44% of decision makers believe that artificial intelligence will be a key component of business strategy in the future, and another 44% believe that it will play an additional important role. In terms of competitiveness and innovation, 37% expect a moderate impact, 19% a significant impact, and 19% a major impact from the introduction of AI.