After competing as players in the 2012 U18 Women's National Championships, Jane Kish and Jessie Olfert have returned to Dawson Creek – this time as coaches for Team Alberta.
Jessie Olfert and Jane Kish still remember the roar of the crowd as they stepped onto the ice at the Ovintiv Events Center. Hundreds of students cheer in British Columbia and Saskatchewan as teams compete in the 2012 U18 Women's National Championship.
"It's the first time as a player that you've encountered a noisy barn," Olfert says. "Dawson Creek has definitely shown up to fill the barn and cheer us on, which is absolutely amazing."
Eleven years later, Olvert and Kish return to the Peace District – this time as members of Alberta's coaching staff. Although more than a decade has passed, the memories are still fresh for both women.
"I'm from Weyburn, Saskatchewan, originally, and then Dawson Creek had about the same population," Kish says. "I remember getting there and thinking, 'This looks like a nice, close-knit community.'"
The quality of hockey and the ability to communicate with players from other provinces also stand out in their memories.
"It was the fastest hockey I'd ever played up to that point," Olfert says. "I remember thinking: 'This is so much fun. I want to find more ways I can continue to participate in this type of high level gaming.
"The connections I built and the experience I gained, it was so great to be a part of," Kish adds.
With this passion for high-level hockey ignited at Dawson Creek, both Kish and Olvert continued to play the game in college. Kish finished her career at the University of Regina as the all-time leader in wins (38) and shutouts (15). Olvert played at the University of Alberta for three years before she stopped skating.
"I called my former coach, who was a big mentor in my life, and asked her: After you leave the sport, what do you do with your life?" "Simply find another way to get involved," she said.
For both Kish and Olvert, training has been an excellent way to stay connected to the game they love in a new capacity. When Olfert made the decision not to play for her fourth year with the Pandas, her coach Howie Draper helped her find her first coaching position to get her foot in the door.
After completing her studies in Kinesiology and Education, Kish was considering balancing substitute teaching with goaltending coaching after university when she was presented with the perfect job opportunity at the Southern Alberta Hockey Academy in Medicine Hat.
"It was the best of both worlds," she says. "It allowed me to be an assistant coach and have goalie skills, but also do all the fun educational stuff at the school."
For Kish and Olfert, being a coach was one of the best things to help transition into life after playing hockey at a high level.
"At the end of a playing career, sometimes an athlete can get a little lost," Olfert says. "It's like a part of your life is kind of over, and it's really over. So, putting all that energy into something else, it can be incredibly beneficial."
"I love it because I learn every day," Kish adds. "Seeing the sport in that light was so amazing for me because I was like, 'Oh my God, when I was a player, I didn't even think about this. But now I see all these different things and it's a different perspective. That was very exciting for me."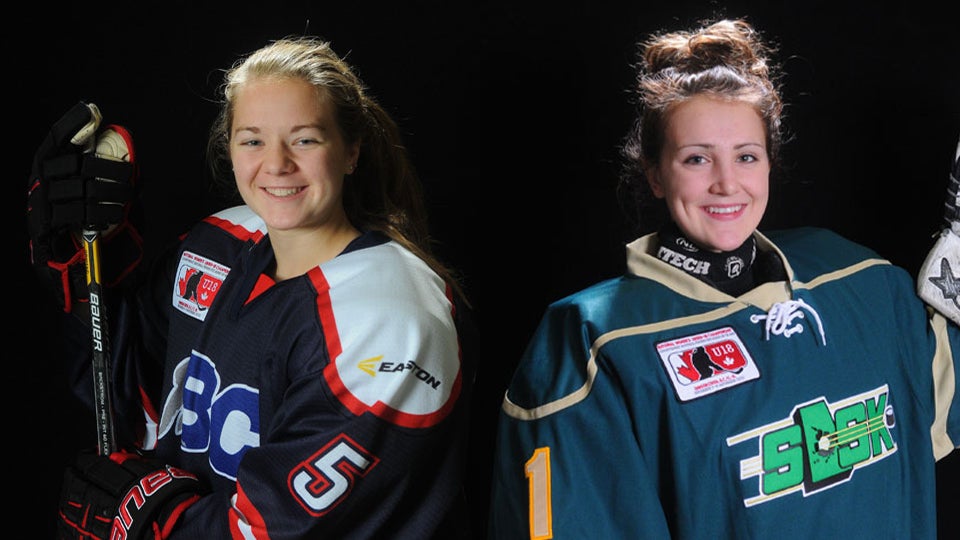 Despite competing against each other at U18 Nationals and at U SPORTS, Kish and Olvert did not officially meet until they were named to Alberta's coaching staff ahead of the 2023 championships. With the experience of playing in the tournament itself, she brings a unique perspective to coaching athletes in Alberta.
"I remember going there and being so nervous," Kish says of playing in the tournament. "You want to perform exceptionally well because you have all these expectations placed on you."
"Sometimes I find that athletes forget that you had a childhood, and you also grew up, and you went through some of these things," Olfert adds. "They can look at you and say, 'What are we doing here?' "And you actually have an answer because you know where their feet are, and you know what's going on in their heads."
Kish and Olvert's Return to Dawson's Creek is filled with nostalgia. It's a familiar city, a familiar rink, and a familiar schedule of what each team has in store during the week. As two of 1,578 girls who have competed in this tournament since 2001, Kish and Olvert hope Team Alberta can seize this opportunity and truly be present in the moment.
"This tournament is a reminder of what all these girls went through to get here. Now, they can enjoy it and experience it just like Jessie and I did 11 years ago," Kish says.
"Life has changed a lot in the last 11 years, but it's also seen a lot of really good changes and a lot of personal growth," Olfert says. "It's really great to have the full moment of being back in Dawson's Creek and experiencing it again, but in a completely different way."